That's Not the Bank on the Other End of the Line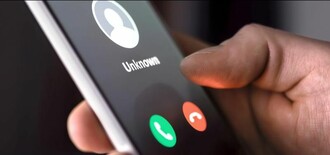 That's Not the Bank or the Government on the Other End of the Line...
Institutions such as banks, government agencies, the police or credit card companies have a lot of authority. Fraudsters take advantage of that influence to get you to send them money or give out your personal information. Reports of impersonation scams have almost doubled in the last year and are sure to continue to grow. 
Seniors are often home during the day to answer the phone, they can be more trusting, and they may not have family or friends close by to ask for a second opinion, so they are often the ones being targeted by these scams. However, you can be prepared should you ever receive a call or email from scammers.
How to Differentiate Fraudsters from Institutions
Impersonating the Government
They ask for payment by money wire, e-transfer, cash or gift cards - these forms of payment generally cannot be tracked or retrieved
 
Government agencies won't call, email, or text you asking for money or personal information

If you owe money on your taxes, the Government will send you a letter in the mail
 

You are threatened if you don't pay or give your information

They threaten with jail time, being deported or having your driver's license revoked
Institutions will never use aggressive language or threats
Impersonating
Banks
You have to identify yourself
 
They may even have done some research on you such as your name or home address to try to fool you
 
The caller says there's a problem with an unknown account
 
They ask you to transfer money into a 'safe account'
 
You have to set up a payment to "block the funds"
 
The scammer may ask for your account or online banking information
What If a Scammer is On the Line?
Hang up the phone and call the institution directly at a number you know is correct

Phone numbers can be easily spoofed to appear to be from a legitimate caller

Do not give out any of your personal or bank information if you are uncertain
If it is a robocall, don't press any numbers. Pressing numbers could lead to more calls
Don't click any links if you receive an email or text message
Regularly review your accounts