Strathcona County RCMP Restores The School Resource Officer Program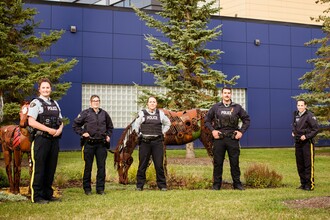 Oct. 12, 2021
Strathcona County RCMP restores the School Resource Officer Program
Strathcona County, Alta. – The Strathcona County RCMP is pleased to announce the return of School Resource Officer Program to the community starting in October 2021.
There will be five School Resource Officers (SRO) that will be working cooperatively with school administration, staff, students, parents, and the community. The SRO's will help to proactively identify and address school concerns and to build relationships between communities, schools and the police.
The SRO position is a very rewarding experience for police members, as friendships develop over time with both students and staff. No two-resource officers are the same, but each SRO will spend their time overseeing and participating in a myriad of different activities for the school. Our resource officers will be committed to fostering partnerships among the students, the school and surrounding community and ensure a safe environment is available to help build successful students. The SRO program provides a valuable link to existing Strathcona County Family and Community Services staff working with parents and students to share community-based supports and resources. 
The School Resource Officer Program will fall under the reintegrated Community Policing Unit. The SRO's will also be responsible for community policing initiatives such as community presentations, red serge requests and police presence at community events.
Strathcona County Enforcement Services will also be working closely with the Community Policing Unit to build community engagement, implement, and promote safety initiatives.
"The health, safety, and well-being of youth in our community is a priority for this detachment and the RCMP," say Superintendent Dale Kendall, Officer in Charge of the Strathcona County RCMP. "The SRO program builds long lasting, meaningful relationships with our students. It provides an opportunity to interact with a police officer in a positive, non-confrontational way that humanizes the uniform and lets them see our officers as an adult they can trust."