Strathcona County RCMP Warn Residents Of Bank Scam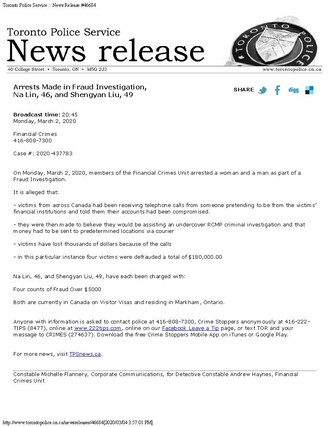 Sherwood Park, Alta. – Strathcona County RCMP began investigating a fraud complaint on Feb. 19, 2020, when the victim reported losing money to an elaborate bank scam.
The victim received a phone call where several individuals posed as bank employees and even an RCMP member. The victim was told that her credit card had been fraudulently used and requested the victim's assistance in an undercover criminal investigation. The victim purchased Google Play cards from a number of businesses and sent cash by mail to an address in Toronto, Ontario under the direction of the scammers. The victim was under the belief that she was assisting police in identifying the individual(s) responsible for using her credit card.
On March 2, 2020 Toronto Police Services intercepted the cash and two people were arrested. Na Lin (46) and Shengyan Liu (49) have each been charged with four counts of Fraud Over $5000.
The unfortunate reality of this scam in that it is an individual's honest desire to help catch a criminal that ends up turning that person into a victim.
A few simple steps you can take to ensure you don't fall prey to this type of scam;
Remember that neither your bank nor a police officer will ever request that you assist in an investigation or ask you to withdraw money from your account. If you receive such a suspicious call, hang up and call police.
Never give out personal bank information over the phone unless you have called your bank and they ask you questions to verify your identity.
Check your bank statement frequently and report any irregularities to your bank as soon as you notice them.
For more information on scams contact the Canadian Anti-Fraud Centre online at www.antifraudcentre-centreantifraude.ca or toll free at 1-888-495-8501. If you believe you may be the victim of fraud or have given personal or financial information unwittingly, contact the Strathcona County RCMP Detachment at 780-467-7741.