Strathcona County RCMP – Hunting in Strathcona County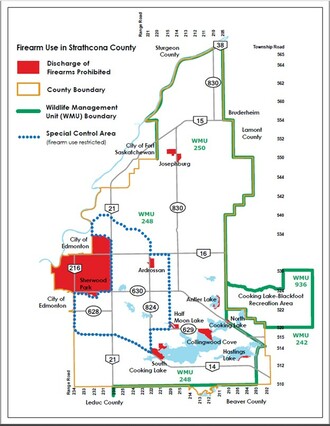 Strathcona County RCMP – Hunting in Strathcona County
Strathcona County, Alta. – During hunting season, rural residents may hear firearms being discharged. The RCMP has received numerous calls about hearing shots fired, which have been determined to be legal based on the bylaws and regulations.
A person may hunt within the Special Control Area, including any part of the Urban Service Area, which is also within the Special Control Area (see-attached map). A person may use or discharge a shotgun, muzzle-loading rifle, crossbow or bow and arrow if:
They have a valid licence from the Minister responsible for the Wildlife Act;
The purpose is to hunt big game or migratory birds, as defined by the Wildlife Act and the Wildlife Regulation.
There are also other important rules and regulations to follow including;
Hunters must have permission from the landowners or the occupant to hunt on a given property.
Firearms may not be used for hunting in Sherwood Park, in rural hamlets or on County property.
Hunting game birds with a shotgun on road allowances is not permitted in the County.
No person shall use or discharge a firearm or a weapon within 183 metres of any occupied building, or cause a projectile from a Firearm or a Weapon to pass within 183 metres of any occupied building within the Special Control Area.
Check the 2020 Provincial Hunting Regulations for specifics regarding the dates for your licence or tag. Strathcona's White-tailed Deer Licence and Antlerless and Antlered Moose Draw tags are valid from October 25 to December 7.
For more information, including maps outlining where hunting is permitted, please visit strathcona.ca/hunting