Strathcona County RCMP Seek Public Assistance To Locate 30-Year-Old Male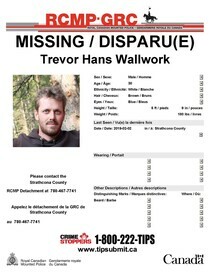 Strathcona County, Atla. – The Strathcona County RCMP are requesting public assistance to locate 30-year-old Trevor Hans Wallwork who was reported missing on Feb. 14, 2019.
Trevor was last seen at his residence in Strathcona County, Alta. on Feb. 2, 2019. The RCMP, along with his family wish to verify his well-being.
Trevor is described as:
caucasian
180 pounds
5'9" tall
Blue eyes
Light brown hair
Beard
If you have been in contact with or seen Trevor Hans Wallwork, please contact the Strathcona County RCMP at 780-467-7741.