Strathcona County RCMP Recover Stolen Property During Search Warrant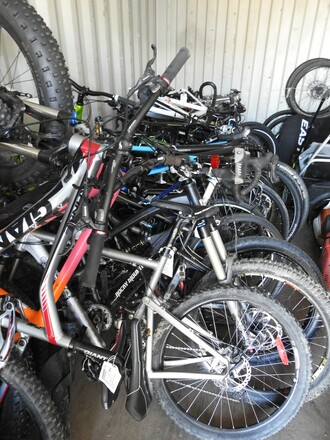 Sherwood Park, Alta. – On Sept. 12, 2019 at approximately 3:09 p.m. Strathcona County RCMP responded to the Glen Allan Recreation Centre for a theft complaint. The suspect gained entry to a locked locker and took the complaints vehicle keys then stole the vehicle from the parking lot.
Police subsequently attended the complainant's residence and determined the residence was broken into and several items were stolen. Through video surveillance police identified a very distinct looking vehicle at the complainant's residence and shortly after, located the same vehicle at a storage facility. The driver of the vehicle was arrested and items from the complainant were located.
A search warrant was executed on a storage locker rented by the suspect. Police located and seized multiple items including bikes, tools, audio equipment, jewelry and sporting equipment.
Trevor Douglas Bennett (46) of Sherwood Park has been charged with:
-Break and enter
-Possession of stolen property (x7)
Bennett was released on a Recognizance and is scheduled to appear on Nov. 6, 2019 in Sherwood Park Provincial Court.
Police have been able to return some of the seized items to their rightful owners, but are still looking to locate additional owners.
This a good time to remind everyone to record serial numbers and distinguishing marks on their property, and to have photographs available in the event their property is stolen and later recovered.
If you have any information about this, or any other crime, please call the Strathcona County RCMP at (780) 467-7741, or call your local police detachment. If you want to remain anonymous, you can contact Crime Stoppers by phone at 1-800-222-8477 (TIPS) or by internet at www.tipsubmit.com or by SMS (check your local Crime Stoppers www.crimestoppers.ab.ca for instructions).